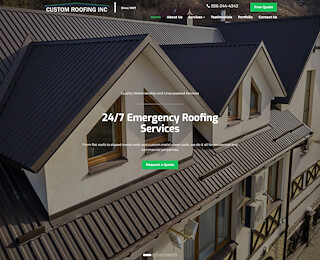 Although you may find many roofing contractors in Saskatoon only one stand out better than the rest, Custom Roofing Inc. We understand that your home or office's roof protects your biggest investment in life, either your home or business. A bad roof can mean major and costly repairs due to water damage from rain and snow.
So when it comes time for you to look for roofing contractors in Saskatoon then look no further than Custom Roofing Inc. We are a highly professional roofing expert that will do everything we can to provide you with a superior quality roof. We understand that the roof of your home or business is the most important part of the structure as it protects not only you but also the rest of the home or office from damage from the natural elements.
Over time a water leak due to rain can cause serious damages that can go unseen behind the walls of your home. If left for too long will create some very costly repairs and may even make the home to unsafe to live in until you get the much needed repairs to keep the structural integrity of the building.
So once again if you are in need of roofing contractors in Saskatoon then call Custom Roofing Inc. today and get a quote to see what we can do for you. Call us at 306-244-4343.
Roofing Contractors Saskatoon